It's 2015 – Wi-Fi is the norm within the enterprise and consumer market, so it never hurts to be safe. Wi-Fi growth from 2013 to present is a staggering 271%, and sources indicate an estimated 4 million business locations worldwide have Wi-Fi hotspots!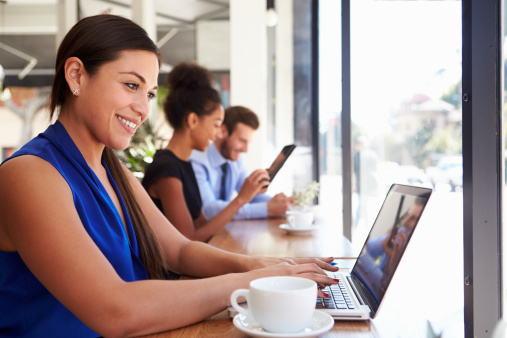 Every year the demand for Wi-Fi increases. BYOD (bring your own device) has taken over. The modern tech savvy workforce now demands Wi-Fi to be readily available.
The increase in growth should indicate that we need to educate. Our trusted partners at ESET listed 10 security measures that every Wi-Fi user should know:
Check the authenticity
Be wary of unidentified or unfamiliar hotspots – especially those that do not require WPA or WPA2 password credentials.
Look for HTTPS
When entering sensitive information such as on a banking website, possibly any website that requires usernames and passwords, check for HTTPS on the address bar or the Padlock symbol.
Patching before you go
Patching is necessary and essential to any security practice. Of course, patching at a safe Wi-Fi hotspot before you're on the go will definitely help. We strongly recommend updating to the latest patches before you're on the go – then you'll be protected and not have to worry about updating through public Wi-Fi.
Avoid accessing sensitive information
This and HTTPS go hand-in-hand. If accessing email, banking, or any sensitive data it's best to wait or do it at home or at a secure location.
Manually select Wi-Fi networks
Always set your Wi-Fi to join manually, unless it's a Wi-Fi network that you are familiar with.
Use a VPN
VPN (virtual private network) is a broad topic that needs an explanation itself. In short, some VPN services offer encrypted browsing across public networks. However, on enterprise levels most solutions offer encryption within their intranet. Utilize additional security tools.
Adopt 2FA
Adding another layer of security like 2FA or Multi-factor authentication will help. Having a separate device to physically authenticate yourself will dramatically decrease attacks/intruders.
Logout when finished
This one sound silly, but logging off will ensure that you do not leave yourself exposed or permanently logged in. Many browsers, sites, and apps often provide the option to remember credentials.
Utilize additional security tools
Still not enough security? There are other utilities or 3rd party tools that can be of use. VPN is our top recommendation.
Turn off Wi-Fi if not in use
Eliminate the risk by turning off the Wi-Fi when you're not using it. A connection unattended on public Wi-Fi can often attract snoopers.
It's often difficult to limit browsing habits via Wi-Fi. The general consensus is to access sensitive data from a reliable source. If unsure, we'd even opt towards using your personal mobile device as wireless hotspot (if available). Use with discretion as not all mobile data plans are created equal.
Whether you're on the go or in the office, Remote Technology Services can help with your wireless. We provide IT support in Myrtle Beach, Charleston, Florence and Wilmington, just give us a call at (800) 478--8105!