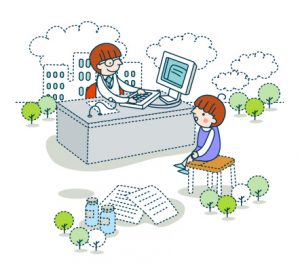 Being compliant with the Health Insurance Portability and Accountability Act or HIPAA is exceedingly important for medical providers as being found noncompliant could bring large fines or even cause health care providers to lose their licenses. The HIPAA guidelines require all medical practices keep their patient data secure and ensure that it is secure while sharing, accessing, and saving that data.
Plan Your Policies and Technical Requirements
I recommend that the first step to having a HIPAA compliant practice is to plan your policies for your staff to follow. Planning your policies and procedures will greatly reduce confusion and promote HIPAA compliance. When it comes to technical requirements, understanding security risks to HIPAA-managed assets such as billing information and patient records is vital to ensure that security isn't breached. That's why I recommend having a designated HIPAA compliance officer available to help you plan and enact the necessary controls as vital. Once you have a plan, be sure to get management involved because they can be held accountable should there be a breach in security. Others who can be held responsible include the IT staff and third-party vendors. I've found out that the cost in fines, repair and restitution to healthcare organization averages around $2.1 million according to a Ponemon Institute study.
Always Train Your Staff on HIPAA Compliant Procedures
I'm sure you already know that having HIPAA policies is not enough. Having your medical and administrative staff trained in the policies and procedures regarding HIPAA will reduce the risk of a security breach. The study I cited earlier, the Fifth Annual Benchmark Study on Privacy and Security of Healthcare Data by the Ponemon Institute indicates that 70 percent of healthcare organizations believe that negligence by employees is the biggest security risk. HIPAA compliance training should be ongoing and not a one-time exercise. If your staff is not current on the proper methodologies it is highly likely that someone will commit an error and risk a serious security breach.
Secure Your Data
At the heart of HIPAA compliance is the need to keep patient information secure. That means that even if you train your staff and adhere to HIPAA requirements you still need to keep the data secure from hackers, spyware and other malicious code. I take data security seriously by using trusted software to protect my machines, backing up my systems on a regular basis and having a back-up plan for data and record recovery. I keep my backups offsite and updated regularly in case the unthinkable happens and destroys my computers, whether a fire, natural disaster or malicious software.
Having a software security company with expertise in HIPAA compliance analyze your systems and strengthen your security measures is of the utmost importance. IT professionals who are knowledgeable in the latest developments in security may be able to find weaknesses you may not have considered.
HIPAA regulations require that care is taken when handling a patient's medical and billing records. By taking these steps, you can help ensure your medical organization is compliant.