You need the help of a Managed IT Services to keep up.
With the hybrid cloud you can use applications with much greater flexibility than ever before.  A hybrid cloud integrates with your in-house IT infrastructure and provides you with the products and services to meet your business's specific needs.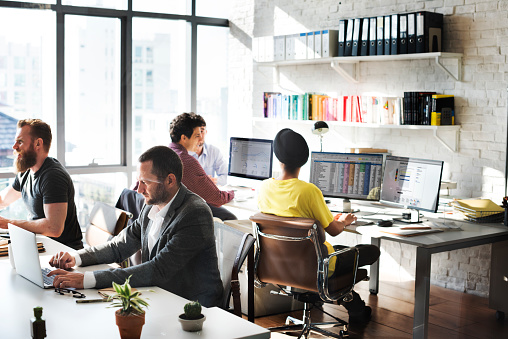 The management of large amounts of applications and data can be overwhelming for any business.  Today, you might have to look through hundreds of thousands — if not millions — of logs stored in multiple environments to find what you need.  Doing this manually is simply untenable.
The Next Big Thing in IT—The Hybrid Cloud
Businesses like yours are transforming their IT environments to a hybrid cloud solution.  A hybrid cloud is a combination of a private cloud and public cloud storage where you house critical data on a private cloud, while other data is stored and accessed via a public cloud.
It allows for a mix-and-match system so you can access a local data center that's scalable, and use on-demand public cloud storage. Your hybrid cloud infrastructure has the advantage of scalability, reliability, quick deployment, and cost savings, with the security of public cloud storage and the control of private cloud storage. Sound easy, right?  Not so fast.
Using a Hybrid Cloud to store data is necessary today—But managing it can be challenging.
Achieving visibility into your data can be challenging. In a traditional environment, there were only so many places where your data could be stored. With a hybrid cloud solution, there are lots of places to go to.
While tools and platforms like the hybrid cloud help your business increase efficiency and productivity, they also need to be managed, which requires you to learn, operate, and maintain these new tools on your own.
What this means is that you and your staff must spend more time learning and add one-off management tools to keep things running.  
IT platforms have been changing faster than the tools used to manage them.  You just can't do this on your own any longer. There is a new spectrum of management tools today. But do you have the time or expertise to figure out how to use them?  You must choose the right tools to consolidate existing tools and gain visibility across your environments, workloads and platforms.
Can you answer these questions with confidence?
Are we ready for the next big thing in IT?
Can we manage and recover any platform, any cloud and any workload?
Is our IT environment as secure and protected as it should be?
Can we solve IT problems quickly?
Are we spending the amount of time needed to grow our business, instead of dedicating this time to managing our IT environment?
Unless you can answer "Yes" to all five of these questions, you need the help if an IT Managed Service Provider.  We can help.  Contact us for a complimentary assessment of your IT needs.  Remote Technology Services (800) 478--8105 support@remotetechservices.net